All-Church Picnic
The annual All-Church Picnic is a memorable occasion where families relax and enjoy an afternoon outdoors together, sharing food, conversation, and playing games. The picnic takes place each June on the second Sunday. Mark your calendars and plan to bring along your friends for an afternoon of fun. Here's a flyer to share with friends.
Date: Sunday, June 11, 2017
Location: Las Palmas Park <click here for directions from the church>
Time: 11 a.m.—2 p.m.
Burgers, hot dogs, veggie burgers, buns, condiments, and lemonade are provided. Please bring a dish to share. If your last name begins with:
A – N: side dish
O – Z: dessert
You're encouraged to bring your own plates and utensils to minimize the use of disposables.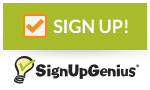 Volunteer jobs: All of the activities are staffed by volunteers, and most require about 45 minutes of your time. There are ways to help before, during, and after the picnic. Click on the SignUpGenius box to see volunteer opportunities.
Email |